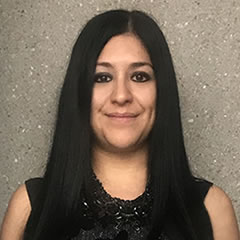 Founding partner and General Manager of DOXA Law Corporation with ten years of experience in the field of Intellectual Property.
Master's degree in Law with a notable mention from the Facultad de Derecho (Law School), and Bachelor's degree in Economics from the Facultad de Economía, both at Universidad Nacional Autónoma de México. Field specialist in Industrial Property by the Instituto de la Propiedad Intelectual y Derecho de la Competencia. She has been awarded with the Insignia of the Claustro de Maestros from the Facultad de Derecho at Universidad Nacional Autónoma de México. Arbitrator regarding copyright infringement.
Professor of the subjects of Intellectual Property of the Company, Introduction to Intellectual Property, Intellectual Property in the Information Society and Forensic Practice in Intellectual Property at the Graduate School of Law at Universidad Nacional Autónoma de México, she has also taught classes at the Universidad Panamericana and at the Westhill University. National and international lecturer on Philosophy, Intellectual Property and Economics.
General Director of DOXA Editorial.
She was chosen as part of the Selection Commission and is a member of the First Citizen Participation Committee of the Local Anti-corruption System of Mexico City.
Author of "Estado, Economía, Políticas y Finanzas Públicas" and co-author of the book "Derecho Empresarial", with the chapter "Derecho de la Propiedad Intelectual". Additionaly, she has published articles in several legal journals.
She is member of the Mexican Association for the Protection of Intellectual Property A.C. and the International Association for the Protection of Industrial Property.
Languages Spanish, French and English.
5513876929
dlucio@corporativojuridicodoxa.com